What wisdom do you offer to young women as they seek to find their own strength, power and confidence in the world?
"Success is liking yourself, liking what you do, and liking how you do it." – Maya Angelou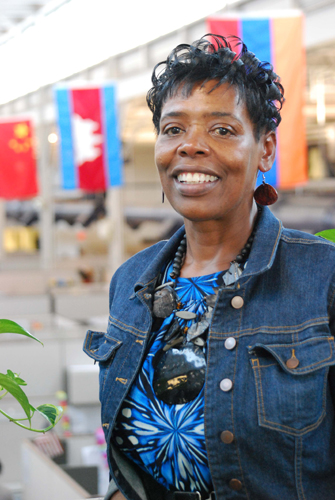 When I chose to become a Master's level social worker, I knew I was choosing a life of helping others. I was well-aware that there would be difficult days and rewarding days, but I also knew in my heart that service to others is in my blood, thanks to a great legacy started by the Dowdy and Dandy women before me.
My strength and confidence comes from my mother Ethel Dowdy, one of the first-ever recipients of a Woman of Achievement Award in 2005. A role model for myself and others, two and a half years ago she fought the biggest battle of her life when she was diagnosed with Non-Hodgkin lymphoma, a type of blood cancer. I observed my mother as she smiled when we all knew that she wanted to cry. I listened as she consoled me over the loss of her beautiful gray hair, "God gave it to me once, He will give it to me again!," I marveled as she helped others with lessons of faith and compassion and I watched as she prayed her way through the cancer. Today, my mom is cancer-free.
I work for an organization that allows me to do what I love, which is to help and empower others. I have been employed by Neighborhood Health Plan of Rhode Island for nearly 12 years. When working with individuals and families, I always treat them as I would want to be treated. I have been given the task of teaching and empowering others to use their voice to make positive change in health care, in their families, and in their communities. I like what I do and how I do it.
As the mother of three girls, I am always pushing them to do their best. When we are doing homework my youngest will always say, "Mom, I am not perfect!" to which I always reply: I am not looking for perfection, I am just looking for your best. That is the same sentiment I share with all women. We must always strive for our best.
As I continue to mold, motivate and nurture my girls, I know it is not out of the realm of possibility that some day one of my own daughters will be a recipient of this stellar achievement. Today, I am honored to carry the torch.
Jacqueline L. Dowdy has served as member advocate/ombudsman for Neighborhood Health Plan of Rhode Island since 2008, responsible for ensuring that members' needs are being met and appropriate services are available to them. Previously, she was Neighborhood's manager of substitute care and was the coordinator of school based health for Thundermist Health Center, Woonsocket. She is the mother of three girls ages 16, 10 and 9 years old; a member of St. James Baptist Church, where she is the director of community outreach; and a member of Rhode Island's Global Waiver Task Force and DCYF's Advisory Committee. She has a master's degree from Yeshiva University's Wurzweiler School of Social Work, New York, New York.
photo by Agapao Productions