Girls of color are often overlooked when policymakers address issues of gender and racial inequality and its relationship to domestic and dating violence.
Black girls face disproportionate challenges in schools and in the justice system, even though so much of the conversation about criminalization and the school-to-prison pipeline centers on boys of color. Latina and Native girls do not trail far behind them. Girls of color who experience trauma are more likely to be met with excessive discipline for acting out behaviors and less likely to get the trauma-informed care they need.
Here are some key statistics that give shape to the problem:
Black girls are suspended at higher rates (12%) than girls of any other race or ethnicity, and at higher rates than White boys (6%) and White girls (2%); American Indian/Alaska Native girls (7%) and Latinas (4%) are also suspended at rates that exceed those of White girls.
Recent budget cuts have also resulted in fewer school psychologists, social workers, and counselors who might otherwise provide support to girls struggling with trauma or other unmet needs before their behavior leads to punishable offenses: only two states (VT and WY) have counselor-to-student ratios that meet the recommended caseload standard set by the American Counseling Association.
A majority of girls who have contact with and are detained in the juvenile justice system pose little or no threat to public safety: 37 percent of detained girls were held for status offense and technical violations (as compared to 25 percent of boys), and 21 percent of girls were detained for simple assault and public order offenses where no weapons were involved (as compared to 12 percent of boys).
YWCA offers a clarion call to all of our better selves, to highlight girls of color's unique struggles and ask what we as individuals and as part of larger organizations can do to improve our society by raising awareness and focusing on altering norms, polices and community conditions that impact girls of color.
TAKE THE PLEDGE:
YWCA IS ON A MISSION TO ELIMINATE RACISM, EMPOWER WOMEN, STAND UP FOR SOCIAL JUSTICE, HELP FAMILIES, AND STRENGTHEN COMMUNITIES. I AM TAKING A STAND AGAINST RACISM WITH YWCA RHODE ISLAND AND HUNDREDS OF THOUSANDS OF PEOPLE ACROSS THE COUNTRY.
Mindful of the continuing affliction of institutional and structural racism as well as the daily realities of all forms of bias, prejudice and bigotry in my own life, my family, my circle of friends, my co-workers and the society in which I live, with conviction and hope,
I take this pledge, fully aware that the struggle to eliminate racism will not end with a mere pledge but calls for an ongoing transformation within myself and the institutions and structures of our society.
I pledge to look deeply and continuously in my heart and in my mind to identify all signs and vestiges of racism; to rebuke the use of racist language and behavior towards others; to root out such racism in my daily life and in my encounters with persons I know and with strangers I do not know; and to expand my consciousness to be more aware and sensitive to my use of overt and subtle expressions of racism and racial stereotypes;
I pledge to educate myself on racial justice issues and share what I learn in my own communities even if it means challenging my family, my partner, my children, my friends, my co-workers and those I encounter on a daily basis
I pledge, within my means, to actively work to support public policy solutions that prominently, openly and enthusiastically promote racial equity in all aspects of human affairs; and to actively support and devote my time to YWCA, as well as other organizations working to eradicate racism from our society.
YWCA USA is on a mission to eliminate racism and empower women. I join YWCA in taking a stand against racism today and every day.
*This pledge has been adapted by YWCA USA from the Pledge to Eliminate Racism in My Life, YWCA Bergen County which is an adaptation of the Pledge to Heal Racism in My Life, Interfaith Communities United for Justice and Peace, April 10, 2006.
RACIAL JUSTICE PROGRAM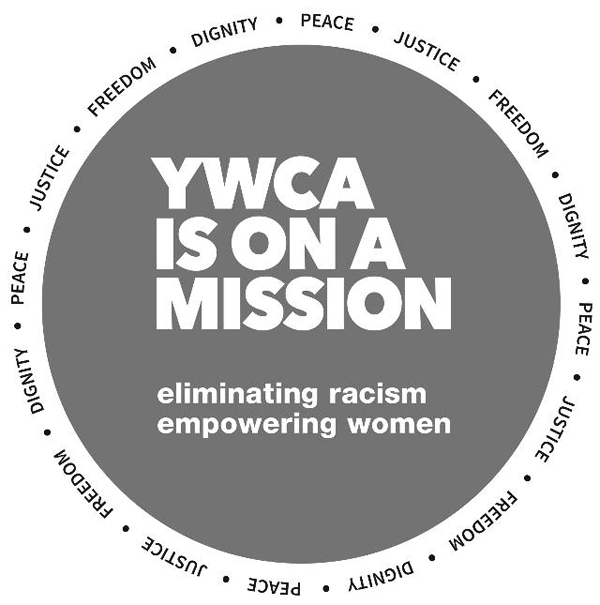 Call YWCA Rhode Island at 401-769-7450:
to book a Training Series
to book Workshop Activities
to order DVDs
Training Series:
Day One – Level 100 ($1,000 up to 25 people)
With a focus on racial and ethnic identity in the United States, participants will become more aware of their own identity development, cultural lens, and attitudes towards race.
Day Two – Level 200 ($1,000 up to 25 people)
An external examination of how racism is embedded in the historical legacy of the United States in our laws, economy, housing markets, and institutions, including our criminal justice and educational systems. By considering this historical legacy, participants will understand the impact that past policies still have on our society today.
Day Three – Level 300 ($1,000 up to 25 people)
This workshop day offers the opportunity for internal exploration by examining subtle and overt behaviors stemming from bias that take many forms: personal, interpersonal, cultural, institutional, and systemic. Participants consider their own spheres of influence where they have privilege and they develop strategies to work towards equity.