What wisdom do you offer to young women as they seek to find their own strength, power and confidence in the world?
Strength, power and confidence all come from within. Before you find your role models and those who have your best interests at heart, look within yourself to ensure that you have your best interest at heart! Believing in you is your first order of business. After all, if you do not believe that you are a diamond in a society that can be challenging and judgmental, you may not find other people who can see your brilliance. Empowering yourself with the belief and understanding that you are valuable while surrounding yourself with others that share the same attributes is a tremendous strategy for success in whichever field you choose. It is always wise advice to surround yourself with those who inspire you, individuals with qualities you would like to strengthen within yourself, people who are smarter, or in positions that you find desirable. This will ensure you are always learning and constantly training to be your best.
My inspirations for sustaining strength, wisdom and power come from various sources such as family, friends and the communities in which I serve. I have come to find that those who are less fortunate also tend to have the most courage and spirit to overcome the hurdles that lie before them. Working with underserved communities inspires me to continue to touch others and provides me with the strength to continue my work. While doing this work I hope to encourage and pave the way for the next generation to go beyond the achievements of women today, continuing on a path of breaking barriers and fulfilling lifelong dreams.
Many hurdles will come along your way as well as triumph and victory. It is up to you how to overcome the hurdles and ride out your achievements to the fullest. There is no such thing as luck. . . it is about being prepared for every opportunity.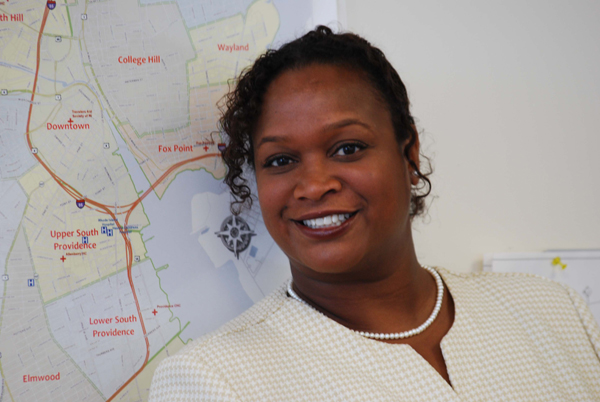 Julie A. Rawlings is the minority outreach specialist for Lifespan, serving as the liaison to community members and agencies with a focus on underserved populations. In five years, she has expanded outreach to communities and individuals, helping the hospital system improve the health of Rhode Islanders. As a result of her work, she was appointed by Dr. Michael Fine, director of the State Department of Health, to serve on the Commission for Health Advocacy and Equity, and by Governor Lincoln Chafee to serve on the Rhode Island Healthcare Reform Commission. She is committed to eliminating health disparities and increasing access to care for Rhode Islanders.
photo by Agapao Productions