What wisdom do you offer to young women as they seek to find their own strength, power and confidence in the world?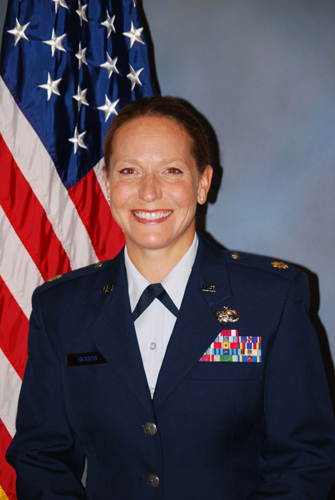 A young woman today who seeks to find her strength, power and confidence in this world is no doubt embarking on a journey filled with incredible challenges. Attempting to break the "glass ceiling," in a predominantly male environment can certainly add to those challenges. When I joined the Air National Guard over 20 years ago, I committed to live by the Air Force Core Values of "Integrity First, Service Before Self and Excellence in All We Do". These are the cornerstones of our organization and have allowed me to become a part of something much greater than myself. My strength, power and confidence has been built and reinforced by believing in these values and having faith that I can persevere through the most trying of circumstances. Establishing and maintaining good, strong values is especially important for all young women as they aspire to rise above and overcome any obstacle in life.
One aspect of my Air Force experience has been seeking a mentor. Mentors provide positive influence, guidance and perspective. Their wisdom helps us to see things from a different standpoint and keep us true to ourselves. They can also empower us to stretch way beyond our limitations. The Air National Guard has given me countless opportunities, to mentor and be mentored. Wherever you are at in life, you can find a mentor. They come in all shapes and sizes and in my case, different ranks as well as individuals from within the community. Many of my mentors are women whom I admire and whose perspective on life is one that I'm continually intrigued by. Relationships are about sharing; the good, the bad and everything in between. The more we share, the more we allow others to do the same. Mentors have not only been people that I have worked for, but whom have worked with me and for me. Most importantly they believe in me. The best part about mentors is that you don't have to have just one. The mentors in my life are extensive and have truly been a wonderful source of my strength, power and confidence.
As a leader, I continuously strive to live by my core values, pointedly keeping in mind the best interest of those that will be affected in some way by my decisions. Sometimes this process can be extremely arduous and gut-wrenching. It can also tempt us to question ourselves unceasingly. The truth is, in our hearts we simply know what the right thing to do is. My words of wisdom to all young women would be- it is important that others believe in you, but it's even more essential that you first believe in yourself. Don't be afraid to exhibit persistence and initiate making a difference or creating the change that you want to see. Be resilient and courageous in whatever you do and trust yourself. If you plainly live like you believe, you will build a worthy, solid reputation for yourself and one that speaks to the world your own sense of strength, power and confidence.
Major Lynne B. Hannon is a full-time logistics officer with the 143rd Airlift Wing, R.I. Air National Guard, leading more than 70 airmen and directing logistics operations including transportation, aerial delivery and fuels functions for C-130J aircraft. A staunch supporter of mentoring and diversity, she is the founding director of the Women's Mentoring Council, a group of Army and Air National Guard personnel that encourages career progression, integration, networking and relationship building as well as discussion of women-centric issues. She also volunteers as the Wing's sexual assault response coordinator, assisting in the prevention of sexual assault in the military. She has been selected for promotion to the rank of lieutenant colonel in June of 2014.
photo by Agapao Productions