Why is mentorship important and how do you enact it in the world?
As I reflect on the importance of mentorship, and how it's enacted for me as a musician, teacher, performer and religious educator, it feels like it happens when one is least conscious of it happening. Like musician John Lennon says, "Life is what happens when you're busy making other plans." Mentorship is what happens when you're doing what you love.
It is such a privilege to work with children and adults through music, teaching, and creating together. Mentorship is a two-way street, as I learn so very much from those I get to work with: be it my adult fiddle students who come to group lessons each week; or youth in the after-school drama-music program at Paul Cuffee; or the spirited young people at church. I love the words of the religious educator, John Westerhoff, who said that 'faith is not taught, but caught.' If one is doing what they love to do, then it is that very spirit or essence that is passed along to others.
As a woman, and mother of two amazing adult daughters, I often reflect on who my role models and mentors are, and have been. As many parents experience, our children are often our best mentors. I remember over-hearing my daughters refer to me as "an artist", when chatting with classmates, and realized in that moment that I wanted to live fully into the image they had of me. They had recognized where my 'light shined', maybe even more fully than I realized it myself. Living into one's gifts and passions, and finding ways to express them and pass them along, is not only a privilege, but a joyous journey of a lifetime!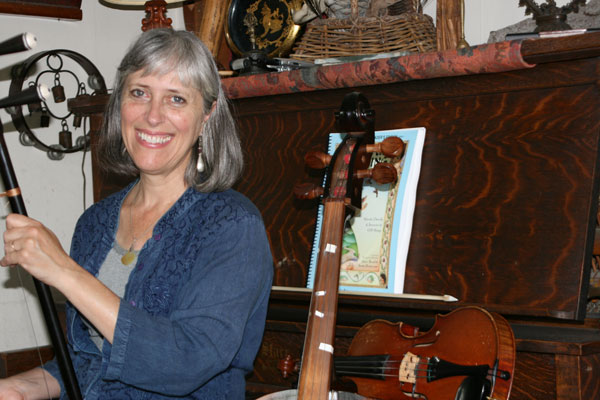 Cathy Clasper-Torch, a multi-instrumentalist (violin, piano, cello and erhu) has been playing, teaching, and performing in Rhode Island and New England for over 20 years with various groups, instrumental and vocal. Her passion is collaborating with others, and believes music is a powerful soul-force that brings people together in spirit and community. Whether she's accompanying city youth in a musical production, or teaching fiddle classes to adults, or group singing, Clasper-Torch's greatest joy is empowering others to feel the music move within, and be able to express it. She performs regularly with The Gnomes Band and Atwater-Donnelly Trio. She sings with the Grace Note Singers and the RI Feminist Chorus. To hear her music and see a calendar of upcoming shows, visit www.cathyclasper-torch.com.
photo by Agapao Productions