Why is mentorship important and how do you enact it in the world?
The Dictionary describes a mentor as a wise and trusted teacher or counselor. In the law, as well as many other professions, mentoring provides an opportunity for a law student or a newly admitted lawyer to learn how to practice law. By partnering with a mentor, a new attorney may achieve higher aspirations, enjoy greater confidence and develop relationships with other attorneys. Also, the principles behind mentorship are important to many occupations. In the legal field, it provides young professionals with knowledge of the law, as well as important professional support that will be extremely beneficial for career development.
Mentorship may be very helpful to newly admitted attorneys who may benefit from the guidance and advice of experienced litigators and many other practitioners as they begin their legal careers. Through mentorship, both experienced attorneys, as well as recently admitted attorneys, may enter the legal profession with a clear vision of how they wish to succeed in their chosen fields in the law.
Mentorship programs do aid in bringing new and experienced lawyers together to help the new attorney develop leadership skills; it is this kind of supportive mentoring that give back while helping others achieve personal success. Also, mentorship relationships may teach inexperienced lawyers to build the core skills and confidence that they need for growth and success in the workplace. For many women, mentorship provided strong female role models which promoted the sharing of a variety of success stories which in turn inspired others and made a difference.
As Chief Judge of Family Court, students who are interested in the law are encouraged to apply for an internship with the Court. Each summer, we have one or two college or law school students who work on a project with us. These students observe courtroom practices, interact with judges and assist the Family Court with research or other important projects; that experience provides a glimpse into the practice of law outside of a classroom setting. Mentorship is encouraged for those students wishing to gain as much knowledge as possible as they embark on in their chosen careers. Mentors provide support, encouragement and guidance which are necessary tools to make future generations gain strong skills to become future leaders.
In my case, Corinne P. Grande was my mentor. When I first met her in the late 1960's, she was a new member of the Cranston City Council. During the summer months and school vacations, I interned at her private law office and accompanied her to Court hearings. The courtroom became a symbol of the importance of the law to litigants whose cases required a Court hearing. Indeed, while in private practice, Attorney Grande taught me how to best represent clients in the courtroom setting. The lessons learned while observing the first woman judge in District Court were carried over to those days when I was the first woman appointed to Family Court in 1980.
In 1969, after her appointment, to the District Court, I'd attend Court hearings when school was not in session; there I observed how she handled a very busy courtroom.
Today, I'd like to publicly thank Judge Grande for her guidance and friendship.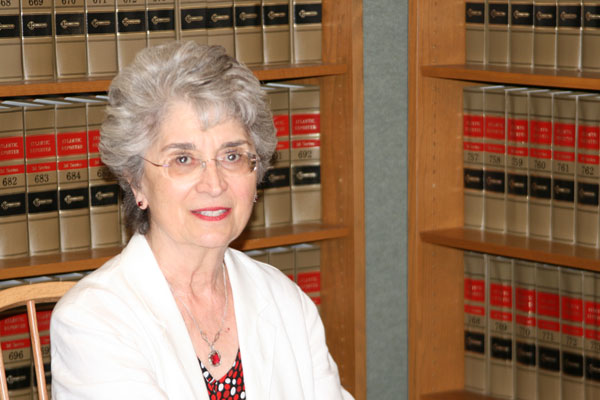 Haiganush R. Bedrosian is the first woman appointed as the Chief Judge of the Rhode Island Family Court on December 10, 2010, having served as an Associate Justice of the Court for thirty years. She taught elementary school for six years after graduation from Brown University. Upon graduation from Suffolk Law School, she served as Law Clerk for one year at the Rhode Island Supreme Court. In private practice, specializing in Family Law cases, she was often appointed by Family Court Judges to represent youth charged with delinquency offenses or to act as guardian ad litem to children in the custody of the Rhode Island Department of Children, Youth & Families. While in private practice, she was employed part-time in the Attorney General's Prosecution Unit. In 1980, Governor J. Joseph Garrahy took the bold step to appoint her as the first woman in the Family Court.
photo by Agapao Productions