Why is mentorship important and how do you enact it in the world?
Many people may think of mentorship as a relationship between an adult and a child, but we cannot forget that young adults and adults need mentorship too. Mentoring comes in many different forms: teaching, listening, giving positive feedback, guidance and leadership. NAWIC's foundation is mentorship. NAWIC was formed in 1953 by women engaged in construction in Fort Worth, Texas. The Rhode Island chapter was formed in 1963 and has two focuses: first to help children of all ages and races to see the possibilities of a career in construction, and second, to be mentors for each other.
The mentorship program for the children consists of Block Kids. This is where we reach out to children of elementary school age. Our members and supporters talk to the children about what we do at our jobs and how being involved in construction is a wonderful opportunity to leave a positive mark on the world. The children get 100 blocks and a variety of other materials like string, a rock and foil to build a construction-related object.
We offer a Computer Aided Drafting (CAD) competition for High School students in which the students are given the challenge to create a structure according to the customers' specifications. The students have most of the school year to work on the project. This project gives them the opportunity to learn what it would be like to have a customer with certain requirements and to then create a structure that will fulfill those needs.
YWCA Rosie's Girls is a summer camp for girls in the inner city. NAWIC members and their employees introduce the girls to the construction industry with hands-on wood working projects. Each project is chosen carefully to fit the experience level of the girls. The girls learn more than just how to assemble a project. They learn how to use their safety equipment properly, follow directions, take measurements, and work as a team. Perhaps most importantly, they learn to have patience with themselves and others.
Mentoring each other, in our group, is natural. Our membership is diverse with owners, managers, engineers, office support, and trades women. Our meetings try to reach all of our members to help them build their businesses and themselves. Our meetings combine networking and education – whether a tour of a member company's project with a networking dinner afterward, or a speaker explaining the ins and outs on insurance coverage. Other meetings have covered the advantageous programs that the SBA and other state organizations offer. We also team up with other organizations to learn and network such as Construction Specifications Institute of RI, RI Builders Association Woman's Council, and Women In Transportation. By supporting other groups in our area, we can spread the word of our mission of mentoring. NAWIC offers us opportunities to interact, network, speak to an audience, promote our businesses, and give back to the community.
NAWIC Builds!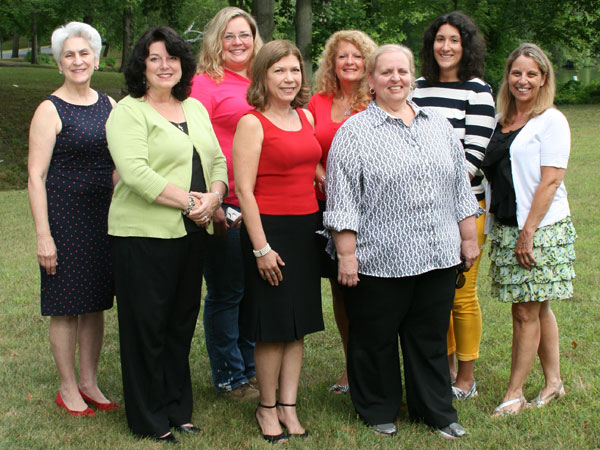 National Association of Women in Construction (NAWIC) No. 1 of Rhode Island, Chapter 52 has worked toward fulfilling its core purpose to enhance the success of women in the construction industry in Rhode Island since 1961. This organization provides its members with opportunities for professional development, education, networking, leadership training, public service and more. It hosts a CAD Design/Drafting Competition for high school students as well as The Block Kids Building Competition for children in grades 1-6. It is also involved with Construction Career Days, hoping to inspire young minds to consider construction-related career paths. NAWIC is an international association.
From left to right, representing the organization NAWIC:
Sophia Karvunis, Dianne Gibree, Virginia Bragger Hucks, Maria E. Votta,
Carol O'Donnell, Pamela A. House, Lindsey Desjarlais, and Judi Baxter.
photo by Agapao Productions