Why is mentorship important and how do you enact it in the world?
Mentorship is a two way street. Regardless of your age, industry or career level mentors and mentees can always learn from one another. When Lady Project first launched in early 2012, we grew from 56 women at our first event to over 300 members in Rhode Island in less than three years. Our members were inviting not only friends and colleagues in their age group, but their previous (older) supervisors, their moms, family friends and mentors. This diversity naturally helped create mentor and mentee relationships within the Project. Both the mentor and mentee were learning from each other in an impactful, authentic and effective way. One of the reasons that I believe Lady Project is so successful is because we are so diverse. Women who come to our events are excited to meet so many other driven women because they know how important mentorship is—on both sides of the table.
Mentorship helps us grow. As women, we lean on each other for support, encouragement and advice. We ask each other the important questions when starting a business and who the best dentist is in town. Mentors help us figure out the big picture, while sticking to the details.
Mentorship doesn't have to be so formal. Mentorship doesn't have to be this super-official, I ask you to be my mentor and then you accept and then we're going steady. It can be something as casual as a coffee date a few times a year, someone you can Gchat with during the work day and get feedback, or someone that you are inspired by every day from afar. Mentorship doesn't have to always be within your industry – you should be inspired by men and women in all areas, and more importantly, outside your comfort zone. Your mentors, even if you only talk to them a few times a year, are important at every level- whether you see them daily or chat twice a year.
You make your own Mentorship rules. You and your mentor decide what is best for you. Maybe it's a Skype session or dinner a few times a year, your mentorship decides what's the best fit.
Mentorship is essential for a successful career and creating a healthy, vibrant and full person. You need those mentors (and to inspire your mentees!) to lift you up, challenge you, and listen when it matters the most.
We hope to launch our formal mentorship program in the next year—pairing our members with mentors, college students and industry leaders. Mentorship is essential in growing our mission and helping our members succeed.
Lady Project connects our members to naturally form mentorships, meet other driven, entrepreneurial women outside their industry, and inspire others to do the same. We showcase these mentorships and relationships through our blog, social media and at events. We encourage these relationships to flourish and grow authentically . . . and with a glass of champagne.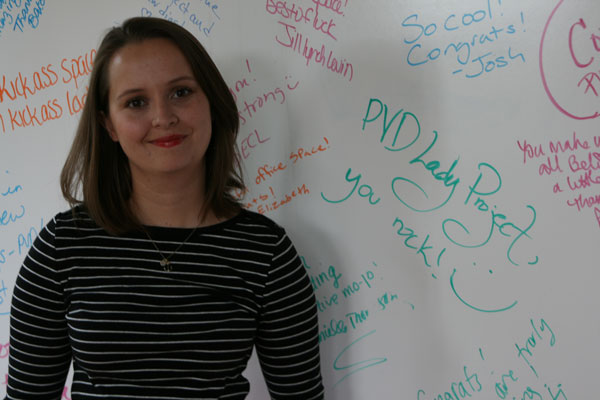 Sierra Barter received a Bachelor of Science Degree in Advertising and Marketing Communication from Johnson & Wales University. She worked for WaterFire Providence and a small web firm before joining her alma mater as their student services social media coordinator. Barter is the co-founder and president of PVD Lady Project — connecting, inspiring and showcasing local women through events, membership and community engagement. Barter also runs her own social media consulting business, @SierraBarter and volunteers with PAWS New England. She serves on the board of Girls on the Run RI and the Summit Neighborhood Association. Barter is pursuing her Master of Business Administration Degree at Johnson & Wales University.
photo by Agapao Productions