How do we build resilient girls? How do you build resiliency in your own life?
Women are strong. Women are encouraging and hopeful. We are quick to recover and reform. We are resilient. It is that resiliency, strong and encouraging hope, which builds resilient girls.
Society likes to put women in neat, defined boxes that suppress our individuality. Resilient girls are built by women empowered to be multifaceted and complete in their lives.
Our culture values a man's opinion more than a female's. Resilient girls are built by women with strong convictions and confident in their views and values.
Too often young girls are forced to conform to society's views because of judgement and ridicule. We build resilient girls by opening our hearts and asking questions full of love and respect rather than judgement.
Resilient girls are inquisitive and explore the world around them. They are optimistic, goal oriented, they look for opportunities to grow into well rounded women, and they never view themselves as victims.
Resilient girls are built by resilient women who understand the need to cultivate a generation of compassionate, fierce trailblazers.
"In the midst of winter, I found there was, within me, an invincible summer. And that makes me happy. For it says that no matter how hard the world pushes against me, within me, there's something stronger – something better, pushing right back." ― Albert Camus
I personally believe building resiliency is about personal growth and viewing every moment as a teachable experience. Growth is hard and sometimes disappointing, it can be judgmental and unbiased but it is a necessity of a productive life. Resiliency is learning how to channel that growth and use it towards the betterment of your life and your community.
I am very cognizant of my past; it helps guide me towards the future I am trying to build. I learn from my successes but more importantly, my failures. These are teachable moments that help the growth of my resolve and resilience. I find that my most honest thoughts and brazen ideas have been awoken in me during my darkest hours, those are my favorite teachable moments and best way to build resiliency.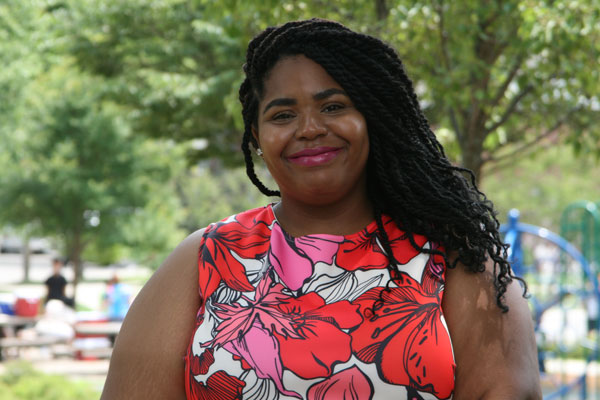 Charon L. Rose is the director of constituent relations for General Treasurer Seth Magaziner. Rose is a lifelong Rhode Islander with deep roots in the capital city, Providence. A graduate of Classical High School, she is a first generation college graduate receiving her Bachelor of Arts in Communication from Rhode Island College. Growing up in the city's Chad Brown neighborhood, Rose had an early understanding of social inequality and injustices. Because of that, she became active in local politics and has been a volunteer and staff member for a number of elected officials. Rose is president of the Young Democrats of Rhode Island, the organization's first Black president, and co-director of New Leaders Council Rhode Island.
photo by Agapao Productions