"YWCA is thrilled to have the volunteer services of these two wonderful organizations." – Deborah Perry, President/CEO of YWCA Rhode Island
by Jane C. Eskelund, Executive Director of Rebuilding Together Providence
The word community is derived from the word common and it means that which a group holds in common. Most of us use the word as a description of the world that surrounds us, but we often forget that we are a vital part of that world, the one in which we have a common interest with everyone else in our group. A resilient community is one that is not only strong, but is long lasting, and it benefits everyone who is a part of that group.
A community can not stand on its own. In order for it to even exist, there has to be a compelling reason for people to gather together for a common purpose. And for a resilient community to grow and prosper, members must take part in the building and maintenance of that community so that all may benefit from its rewards.
Community does not mean someone else takes care of things. Community means you get involved. And resilient communities happen when lots of people get involved.
How does Rebuilding Together foster resilient communities? Rebuilding Together identifies critical needs and gathers people from the community to address those needs. Our volunteers are all ages and come from all walks of life. They all come together to make a difference, and to teach others that where there is a common purpose, great things can be accomplished.
When it comes to building community, no one has to be an expert. All you have to do is be willing to join in the effort, contribute your time and talent, and not be afraid to do your best. When people see the results of this, it becomes a rallying point and serves a powerful example of how to build resilient communities.
Rebuilding Together works to positively impact whole communities through rehabilitation of homes and surrounding schools, parks, gardens and nonprofit facilities. They are engaged in creating changes across the country with the help of everyday citizen volunteers, skilled tradespeople and the support of local business and corporate partners. Rebuilding Together Providence has provided these services in Rhode Island for more than 20 years.
Honeywell Hometown Solutions, company's global citizenship initiative, along with leading public and non-profit institutions, is connecting in powerful ways. Since 2003, Honeywell is a national sponsor for Rebuilding Together, and combined with their expertise, are dedicated to helping struggling families live healthier and safer lives.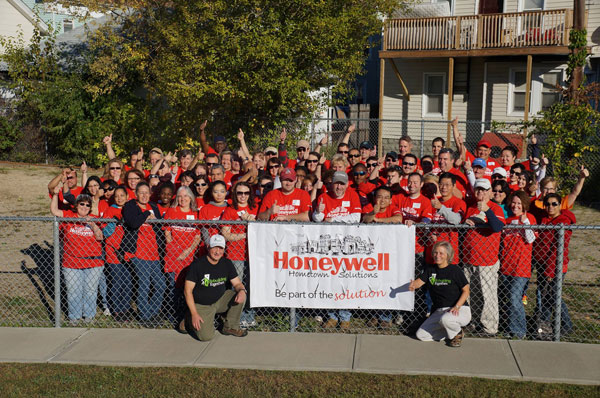 Volunteer days were coordinated by Rebuilding Together Providence with assistance from volunteers at Honeywell Hometown Solutions. In 2014, fall projects were completed at the Central Falls/Pawtucket Campus of YWCA Rhode Island such as building raised garden beds, repairing fences, cleaning up the grounds, painting walls, and hanging new curtains/blinds. In 2015, summer projects were completed at YWCA Camp Hamilton such as clearing trails, refurbishing basketball courts, building benches, restoring picnic tables and painting various exterior locations in and around the camp.
photo courtesy of Honeywell Hometown Solutions