My dream job, I thought, was to be a lawyer. This occupation seemed like the best way to help people without power.
Children learn by example, and examples of helping others were plentiful in my upbringing. My maternal grandparents, Russian and Romanian immigrants, came to America because they wanted to improve their lives. This inspired them to improve the lives of new immigrants though the International Institute of RI. My mother was the driving force in creating the citywide tutoring organization now known as Inspiring Minds. My father continuously worked on progressive political campaigns.
Given that legacy, I was driven to find ways to help others. My first volunteer job was in sixth grade, tutoring at MLK Elementary School. In middle school I read to the elderly at Hallworth House, and in high school I volunteered at the RI Rape Crisis Center. In college, I tutored teenagers in a halfway house who, after prison, needed help getting their GEDs.
Even after graduating, working in commercial real estate, marrying, and having children, I continued to seek opportunities where help was needed. I was an active PTA leader throughout my children's school years. I was gratified to be able to make a difference. Happily, my husband Larry is also passionately devoted to community service.
In addition to running a real estate business with my husband, we have taken on many entrepreneurial challenges, including rescuing a failing boatyard in Jamestown. This became my adventure, and I was determined to succeed as a woman in what's traditionally a man's occupation, and to mentor women, including the woman who now runs it. The boatyard also served as a venue to help others, hosting events for the local education foundation and creating a community gathering place.
There are many young people who have not had the examples that I had to teach them that they, too, can make a difference. I have chosen to take on leadership roles in organizations that share this mission.
Sophia Academy takes girls from low-income homes in middle school, a vulnerable period in their lives, and empowers them through academic and social justice education.
The Providence After School Alliance provides quality after-school activities for thousands of middle and high school students, in a public/private partnership that is a national model.
FirstWorks directly engages public school students with world-class artists, provides experiential learning in a classroom setting and often offers first experiences of live performance in the theatre.
I am so proud that our sons continue the legacy of helping others. Our youngest, Daniel, believes so strongly in an obligation to serve that he is an Air Force pilot, now in Afghanistan. David was a volunteer firefighter and tutor before he became a venture capitalist, now mentoring others in his field.
As for being a lawyer, I never became one. My vocation is better described by a synonym. I am, and always will be, an advocate.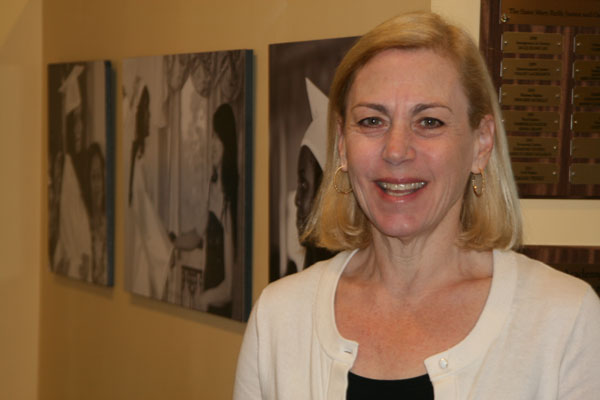 Alison Eichler is president of Sophia Academy's Board of Directors. She returned to Providence in 2005, the city of her youth, to provide a better quality of life for her family, and now works to improve the quality of life for Providence residents. In addition to her position on Sophia's board, Eichler is vice-chair of the Board of the Providence After School Alliance, secretary of the Board of FirstWorks, and a member of the Rhode Island Personnel Appeal Board. Since 1985, Eichler has been co-principal in Eichler Realty Company, which invests in and manages commercial and residential properties. That role led her to purchase, renovate, and operate the Dutch Harbor Boat Yard in Jamestown from 2008 to 2014, when it was sold. Eichler is a graduate of The Wheeler School and New York University.
photo by Agapao Productions