My Dream Job
As a child living in the Washington Heights section of New York City with my parents, I often acted and played out scenes in my bedroom with my toys. I wasn't really sure what I wanted to be when I grew up, but I knew I wanted to hit the big stage.
So of course as I advanced in school, I advanced in the arts. Later, I thought business management would be my passion and that is what I would pursue in college. But lo and behold when I stepped onto the grounds of Long Island University in Brookville, I realize something—I was a black young woman.
Up until that point in my life, race never played a role. Or did it? I often found myself having to describe or explain to others—who are not of color—my situation, my story and my feelings.
I guess it didn't take you too long to figure out that once I had children of my own, I became a strong advocate for youth, young women and people of color. Partially because I had to advocate for myself my son and my daughter. Being a single mother and a woman of color came with a certain stigmatism. So I decided to prove them all wrong.
They said I couldn't complete school? I did.
They said I would have no life, because I had children and no husband. I had more than enough for three people. I took my children every step of the way. We became each others advocates. They advocated for me and I definitely advocated for them.
So for me to step into the role of advisor with the NAACP youth works committee—as well as starting my own nonprofit youth organization—seems like a natural progression.
Advocating have been a part of my life from the very moment I was born, I just didn't know it yet. Once I found my calling and put on my ruby red slippers, I never looked back.
As long as I have a voice and movement, I will stand tall and proud and speak up for women, people with disabilities, youth and those that are marginalized by stereotypes that are not true—not only in my city, but any city that I can get to.
You see that's what community service is to me—not just serving the community where I live, but any community that is in need. What is your calling?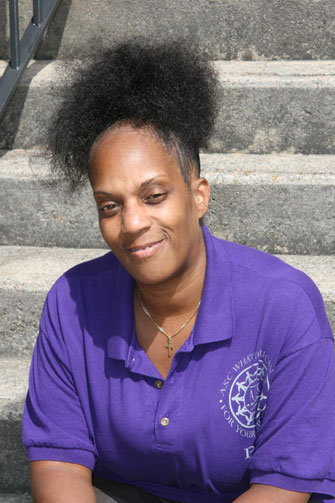 Pilar McCloud is the CEO and founder of A Sweet Creation youth organization, which was founded in the Olneyville section of Providence. McCloud is currently the chairwoman of The NAACP Providence Branch Youth High School and College Chapters as well as an officer and Executive Board member. McCloud serves as the New England Area Conference Advisor for the YouthWorks Committee serving the 15 chapters of the NAACP in the New England area that have active youth councils. She is also co-director of Unified Solutions an incubator organization for grassroots nonprofit organizations in Providence. After working with youth in various communities for over a decade McCloud completed her 3rd term as an AmeriCorps member at Youth Build Preparatory Academy as the mentor team leader. She mentors youth with Big Brothers Big Sisters of The Ocean State, GoodWill Industries, The Met High School and Nathaniel Greene Middle School. She is a member of The National Mentor Partnership. McCloud has received several awards and accolades including The Youth Build 2015 Humanitarian Award, The National Secretaries of State Medallion Award in 2015 for Civic Leadership & Advocacy, along with being the 2015 NAACP Rosa Parks Award winner.
photo by Agapao Productions